Why do we need to cleanse our body?
Our body is full of toxins built up from food that we eat (processed food, fast food and etc), caffeine and alcohols, our environments (pollutions) and so on.
Due to all these, we might feel tired, stressed, bloated and unmotivated.
At Fresh & Press, we have designed a number of programs to suit your needs and to fit in your busy schedule.
Fresh & Press detox program provides cold pressed juices and nut milks that are packed with nutrients and live enzymes, which help your body heals and flushes the toxins away.
Each day contains 6 bottles of cold pressed juices & nut milk.
During this period, it is best not to consume any solid food. However, if you really feel the need to consume solid food, go with a small portion of fruits, raw vegetables or raw nuts.
If you are unsure which program suits you best, let us know and we are more than happy to help you choose!
Recharge (1 day)
If you are new to juice cleansing, we recommend starting with our 1-day program. This is best during mid-week or after a long weekend of food indulgence.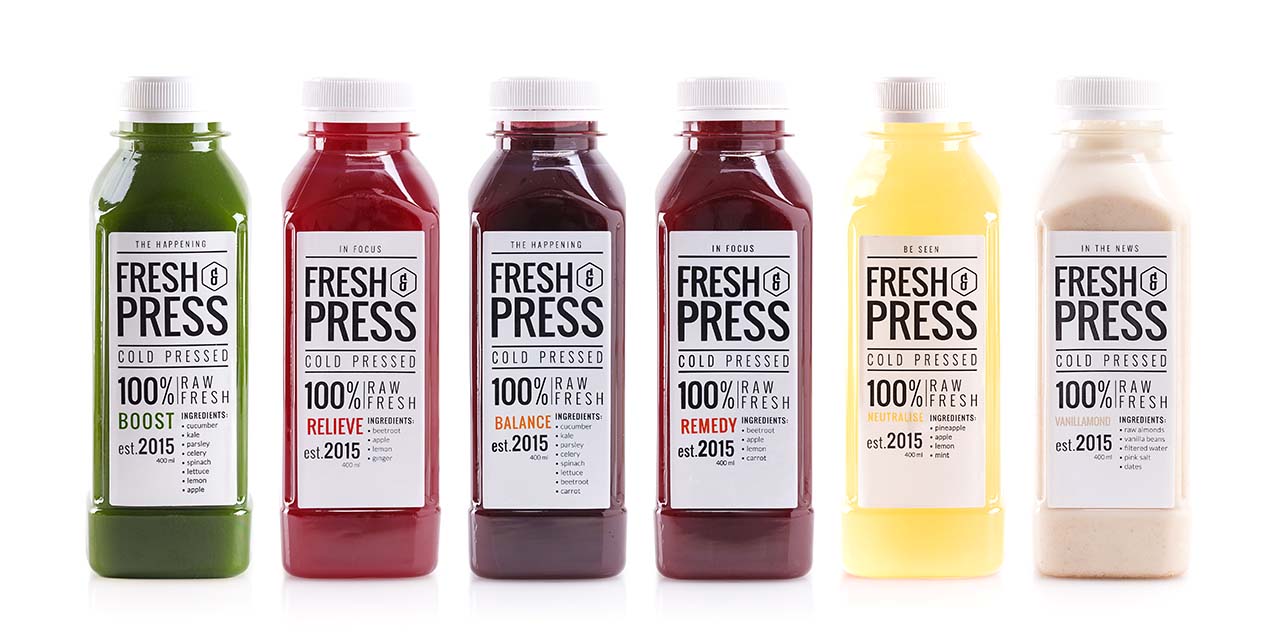 GO SHOP
Restore (3 days)
Our most popular detox program, designed for someone who is looking for a better change in his/her lifestyle. We recommend starting this program during weekends or during days that you are less busy.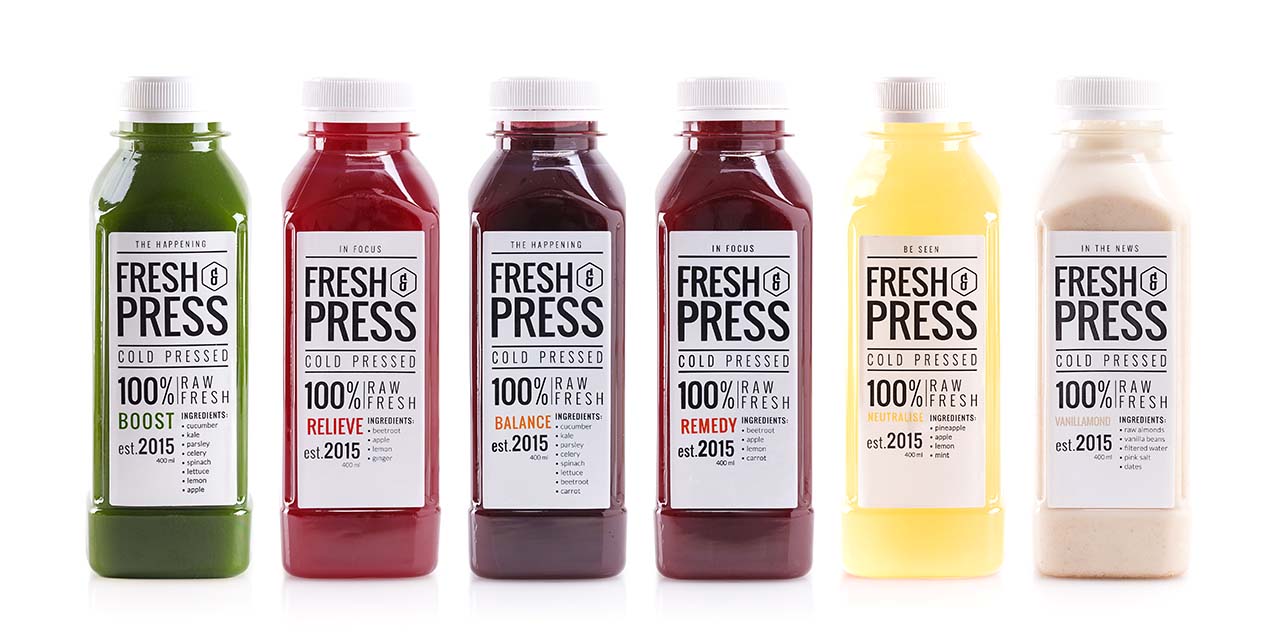 GO SHOP
Revitalize (5 days)
This is for someone who has had juice cleanses previously and wish to experience a deeper cleansing experience.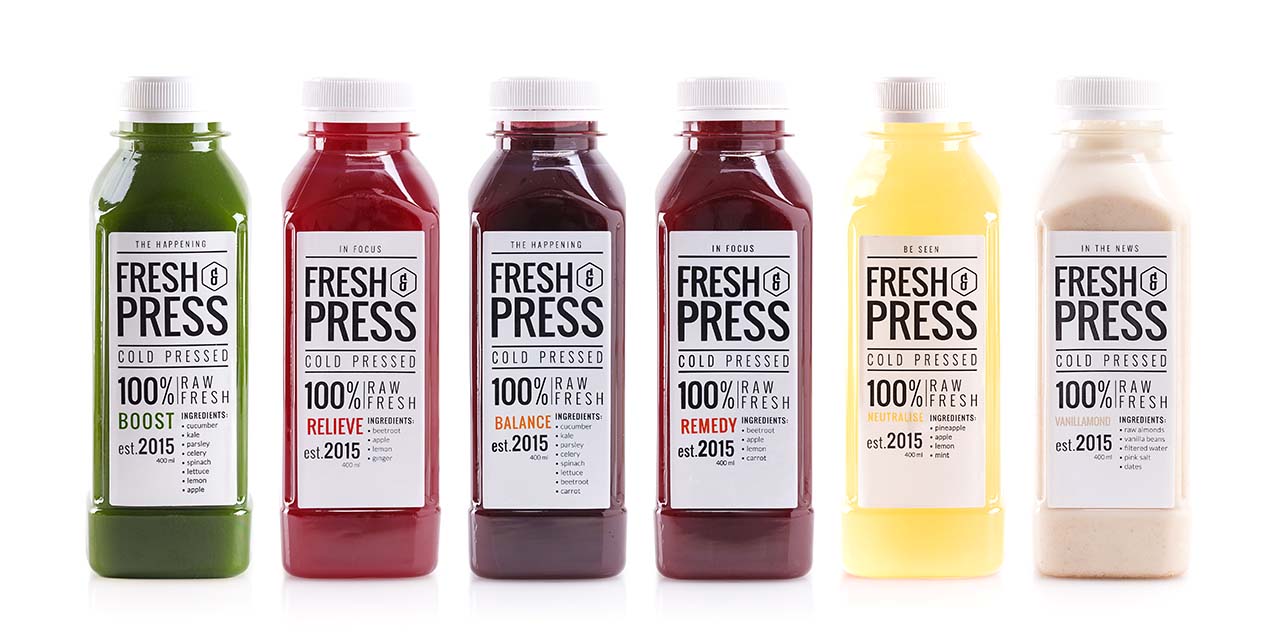 GO SHOP
2 to 3 days prior to commencing the program, try to avoid the following:
Processed food (including fast food)
Drink plenty of water to aid flushing toxin out of your body
You could also try the followings:
Light exercise such as walking and yoga
Massage, Reflexology, Scrubs
After day/days without solid food, start introducing solid food back into your system slowly. The purpose of the detox program is not weight loss. However, you might lose a few kgs and that is a bonus. Don't panic if you gain some back after you get back to your regular routine. This should be the start of a healthy lifestyle ahead.
Note: Our detox program is not suitable for pregnant or breastfeeding women, children under 18, the elderly, people with weak immune systems and people on medications. Please consult with your physicians or contact us if you require more information.
Start the day with warm lemon water.
Increase your daily intake of vegetables. Or a bottle of our "Green Juice" will do.
Take B Vitamins, which assist with liver detoxification.
Include fiber in your diet. This helps keep your bowels healthy and regular. Also assist re-circulation of toxins and cholesterol in your body.
Try to exercise regularly, i.e. start with walking or slow jogging.
Avoid caffeinated and alcoholic drinks if possible.
To maintain a healthy lifestyle, we recommend joining our 3 or 5 days detox program every month. If you prefer a 1-day program, you can repeat this every week for maximum results.
You may also want to purchase our Maintenance Pack, which is specially designed for those who want to include cold pressed beverages into their regular meal plans. Each Maintenance Pack includes 1 bottle of each green juice, fruit juice and almond milk with a total of approximately 650 – 750 calories. To place an order, please click here.